Top Paving Services in London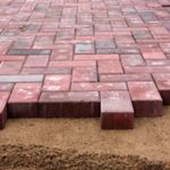 When designing a garden don't forget to include some paving. It's all very well to stand on the edge and enjoy the view but you should also be able to get in amongst the beauty and enjoy it from close up too. Paving can add that perfect finish to the exterior of your property, as long as it's installed properly. Otherwise, you'll be facing puddles of water collecting in uneven places and paving that has lifted up over time. There so many materials to choose from that a little bit of expert advice surely won't go amiss either. Whether it's granite, sandstone, limestone, slate or concrete we can help with all your paving needs, from start to finish.
Traditional or Contemporary Paving Installed in London
We can help you with a paving solution. Driveway paving, paving paths through your garden, or a path to your entrance if you have a front yard. Just sit back and let us do the hard work for you, at a very reasonable price. We've been working in the industry for more than 10 years and can show you a wide range of projects we've completed from simple walkways to full garden landscaping projects. No job is too big or too small for us and our team. Choose Handyman Express for your stone paving because:
We're a fully insured provider with a team of vetted professionals
We're honest and upfront about everything we do and that includes our prices
All our work, including paving installations, are carried out to the highest standards
We focus on customer satisfaction and guarantee our work
Paving is a Part of our Full Landscaping Package
Transforming your outside space into a functional extension of your home requires good planning and design. We have a team who can help with all aspects of this transformation from planting and lawn care to building water features and installing paving. We'll help you stop scratching your head in confusion and give you an outside area that will have your neighbours green with envy.