Cost-effective Handyman Rates
Handyman Express London charges as follows:
We never charge a call-out fee for the work but there is a £24 charge for price estimate call outs, which you can redeem in case you book a service.*
If not stated otherwise in written form:
Payment is required right after the work is done. We accept debit/credit cards, cash payments and more.
If we have agreed to invoice you, payment terms are 7 days from the date of the invoice. In the event that no payment is received within this time, payment will be taken from the credit or debit card supplied at the time of booking.
Economical Rates:
Have lots of tasks for our team? Then you might want to save money and book one of the handymen for half day (up to 4hrs) or full day (up to 8 working hours). The price is as it follows:
Half-day (up to 4 hrs) - £184 /Monday - Saturday/ and £226 /Sunday/
Full day rate (up to 8hrs) - £284 /Monday - Saturday/ and £324 /Sunday/
Thinking of a large project?
If it's a big request, we'll quote you a final price to complete the job. Services could include kitchen fitting, bathroom installation, tiling/retiling jobs, and other installations which would require our handymen for more than 2 days.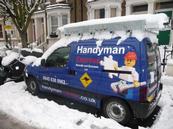 Please note:
All prices are for labour only and do not include any materials or other additional expenses. Rates are final with no hidden charges added.
If you require us to source materials for the job, we are happy to do this for you, at the standard hourly rate.
If your home or offices fall within the congestion zone and we are not able to come in on a scooter, we will charge the cost of congestion in addition to our fees for the job. Parking is also an applicable charge.