Wall Plastering and Replastering Services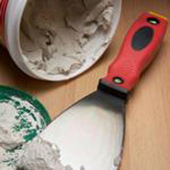 As part of our decorating service, we can offer a re-skimming of plaster walls service that'll provide the perfect base for all your future plans. Even the most tired walls can be replastered by our experienced tradesmen saving you from failing after your own attempts. Plastering any kind of surface is a rather messy business. And if you aren't able to achieve a perfect finish no amount of wallpaper or paint will hide it from view. Handyman Express got you covered whether you need a skimming coat over existing plaster or old plastering coat that needs to be stripped down and replastered. The technicians can help you decide whether you need a complete strip down of the old coat or just a quick repatch and filling of cracks.
What our Expert Plasterers Can do for You
From start to finish our skilled plasterers will provide a superior surface for all your walls.
We can supply all materials
We'll remove and dispose of all the waste products from your old walls and ceilings
We can supply and fit new acoustic insulation to cut down on overhead noise
We'll help make your home more energy efficient
All their work is guaranteed
As soon as you notice those nicks, dents, and scratches give us a call and we'll repair them before they get worse. We've been working in the industry for more than ten years and have successfully completed countless projects all across London. We carry out our services according to your requirements at a time that suits you. Our technician will observe the state of your walls and after that recommend the best solution for your case. For minor damage to the wall, the solution would be a simple skimming procedure. For bigger dents and cracks, it would most likely be replastering. It all comes to the particular situation, that is why on site visits and quotes are provided. There are other options on the market, like drywall or plasterboard, our experienced handymen will advise you depending on the state of your property, level of the walls and ceilings and a bunch of other factors, for which you won't have to worry about.
Note: If you have cracks, holes, and dents on the outside of your property don't worry. The service you need is called, rendering. Yes, of course, our teams can do that too. It is basically the same as plastering, however, it is done with different products, and in essence stronger compounds. Even if you don't have cracks on your walls, a quick rendering of your outside walls plus adding some isolation will noticeably increase the amount of heat your home can preserve during the winter. It will make your home more energy efficient, which is always a good investment!
Hassle Free Plaster Work in London at an Affordable Price
When the time comes for decorating ensure perfect results with the help of our handyman. Don't waste your time and effort on this messy job only to be left with a finish that needs professional help. Save money by booking a cost-effective alternative to doing it yourself. Our customer service lines are always open whether you contact us online or over the phone. Manned by honest and friendly guys and girls who have all the time in the world to provide the answers to your questions and help you make a booking for one of our many services.