Sanding & Preparing Jobs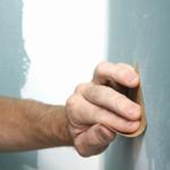 When it comes to decorating, whether you're planning to paint or wallpaper, the devils in the detail and that means the preparation. If you don't prepare the surfaces correctly your paintwork and wallpaper will highlight any blemishes and dirty marks you left behind. Good, decoration is born from good preparation and this is something our decorators concur with. Although it is the most time consuming aspect of any decorating project you'll be very disappointed if you don't give it the time it deserves. Handyman Express are expert decorators and have all the tools, equipment and materials to ensure your next decorating project is a success. We've been expanding our area of operation for more than 10 years now. Due in no small part to the high number of recommendations our customers are happy to give.
Quality Workmanship and Competitive Prices
Let's examine some of the reasons you should take care of the preparation side of decorating and why Handyman Express are the ones to call.
Rough surfaces and imperfections will be highlighted when new paint is applied
Achieving a smooth surface for the paint is crucial
Our decorators have the time and patience to prepare your surfaces prior to painting
We can save you from this very messy stage
Once the preparation is done our decorators can wallpaper and paint your walls too
Our skilled tradesmen and highly qualified and proficient in all aspects of decorating
You Can Count on our Sanding and Preparing Service
For domestic and commercial customers throughout London we are more than happy to provide a sanding and preparation service that will aid in the perfect execution of your latest decorating project. Well trained and carefully vetted our team promise exceptional results. You can be sure that your property and possessions are safe in our hands as we're fully insured and have an outstanding reputation right across the capital and beyond.